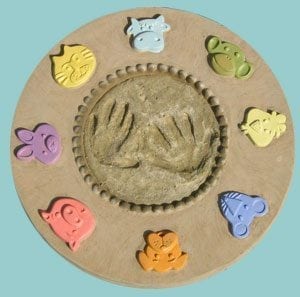 Our Handprint stepping stone mold has been designed with a 7″ wide by 1″ deep center cavity. By filling this cavity with fresh concrete, you can take impressions of your kids' hands or pawprints of household pets, create artful designs using mosaic tiles, glass, leaf prints… or whatever else strikes your imagination!
The 7" in diameter cavity should accommodate the hands of any age child. Your kids can then have fun decorating the stepstone with our selection of Patio Paints.
Directions
• Prepare the mold by brushing with oil. Pour concrete, mortar mix or a sand mix into the mold, lightly tapping the mold to remove air bubbles. Cure 36-48 hours before de-molding stone. See our Basic Instructions for more information.
• After de-molding, prepare another small batch of concrete by mixing 2 pints dry concrete with enough water to create a mud-like consistency. It's best to use a sand/Portland cement mixture that doesn't contain pebbles, such as a concrete patch mix which can be purchased in any hardware store. Or make your own, mixing one part Portland cement to two parts sand. Pour into the cavity. Before pressing children's hands or pet paws into the concrete, coat hands or paws with a little vegetable oil or Vaseline; wet concrete is slightly caustic.
If the impression doesn't come out crisp enough, wait a while until the mix starts firming a bit, then try.
• After allowing the second pour to harden, the stones can be decorated with either paint or iron oxide washes. Oxide washes should be applied 1-2 days after demolding the stone while the concrete is still "green;" paints should be applied 1-2 weeks after demolding. For more information, go to our website or the How-To booklet which comes with each mold. Patio paints can be found in several colors on our website under Iron Oxide Pigments.